Daily disinfectant for veterinary clinics and companion animal facilities
Virkon™ Professional is a combination of ingredients that work together synergistically. It is a disinfectant with multiple modes of action designed to work on different and specific parts of the microorganism. This effective, broad-spectrum disinfectant is great for use in veterinary hospitals, shelters, and boarding facilities.
High levels of surfactant activity with acidic and oxidizing power provide effective removal of biofilms.
Effective against organic challenge in hard water, at a low temperature.
Can be applied to mostly clean surfaces and equipment to clean and disinfect in a one-step process.
Available in two forms: powder and tablet for easy storage, transportation, and accurate dilution.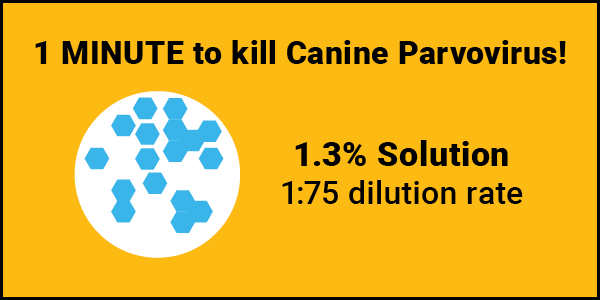 Ingredients

Virkon Professional possesses multiple modes of action that work synergistically to attack key structures of the organism.

Key chemical agents in Virkon Professional and their action:

Potassium peroxymonosulfate - Oxidizing agent that disinfects best in acidic conditions
Sulfamic acid - Chlorine stabilizer
Malic Acid - pH control
Sodium hexametaphosphate - Buffering agent
Sodium dodecyl benzene sulphonate - Surfactant that combines cleaning with disinfection

Sizes

Virkon Professional Powder

10 lbs with 1.3 oz scoop
Makes 123 gallons of a standard 1% solution
Measuring scoop minimizes waste, providing accurate mixing
Ideal for large areas
Mixes quickly with water
Pleasant citrus scent

Virkon Professional Tablets

50 count
Makes 50 pints of standard 1% solution
Convenient for smaller areas and easy mixing
Best if used with warm water
Pleasant citrus scent
Effective against...
©2022 Vetoquinol USA, Inc. Vetoquinol and the Vetoquinol logo are registered trademarks of Vetoquinol USA, Inc.
Virkon™ Professional and any associated logos are trademarks or copyrights of LANXESS Corporation.
VRK-0715-VTQUSA