Do you care about improving pet health? Do you have a passion for livestock or horse health? Are you interested in the development, distribution, or marketing of innovative pet products? Are you looking for a career with numerous training and growth opportunities? Join a positive and innovative culture where employees from different fields and countries collaborate to better serve our clients and fulfill our mission: improving animal health.
CAREERS
Vetoquinol offers a variety of exciting opportunities.  Vetoquinol cares about employee satisfaction and measures it regularly. We offer a competitive salary and benefits packages as well as a culture that respects and encourages work-life balance. We are committed to excellence in our industry and are looking for talented individuals in the following fields:
Industrial and Supply Chain Management
Regulatory and Quality Control
Research and Development
Marketing
Sales
Technical Services (Veterinarian)
Corporate support functions: Procurement, Accounting and Finance, Human Resources, IT, etc.
BENEFIT OFFERINGS
In addition to competitive compensation packages, Vetoquinol takes pride in the benefits we offer to our employees:
Platinum-level medical, dental and vision insurance coverage with low premiums
Company-paid life, long term disability, and short term disability packages
401(k) plan with a generous match
Generous paid time off programs and paid holidays
Volunteer Time Off
Pet-Friendly Office Environment
Flexible Work Schedules & Telecommuting Options
Paid Maternity, Paternity and Adoption Leave
Free Product Program
Fitness Center Reimbursement 
Monthly Catered Townhalls and Employee Engagement Events
And much more!
Image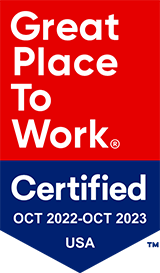 GREAT PLACE TO WORK CERTIFIED
Each year Vetoquinol USA participates in the Great Place to Work Institute's survey, to gauge employee satisfaction and identify areas where we could improve the work environment and professional development opportunities we offer to our teammates. For the last four years, we have been honored to be certified a Great Place to Work based on our team's survey responses. Check out what our employees had to say in our most recent survey by clicking here!
CURRENT OPPORTUNITIES