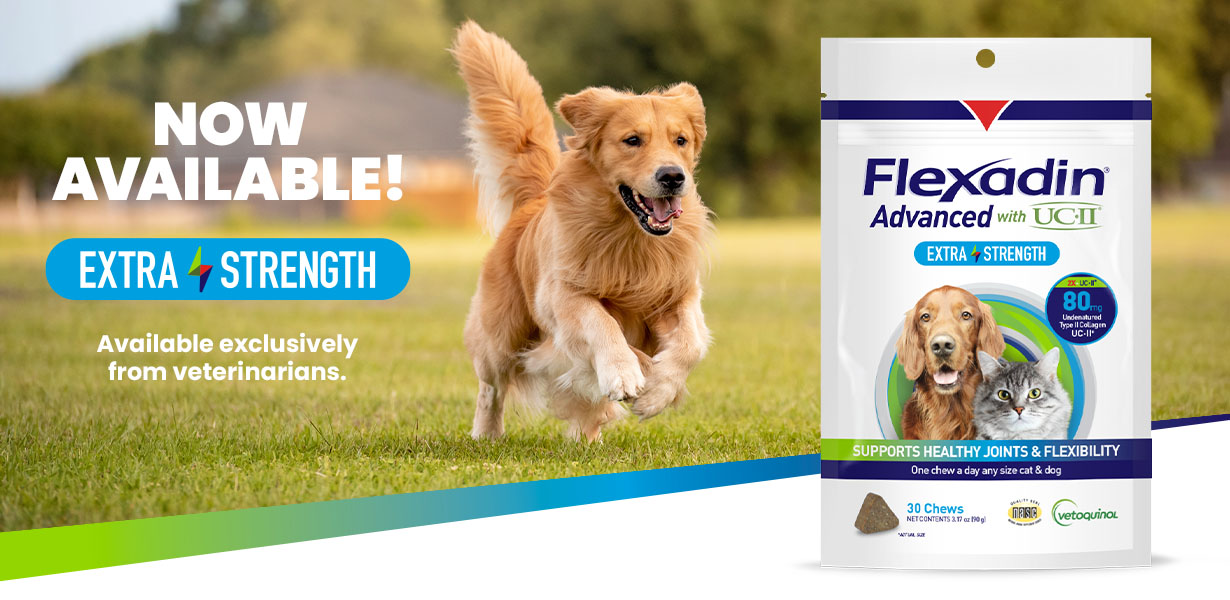 A Breakthrough Formula Containing UC•II®
Flexadin® Advanced is a major leap in the quest to support joint health. With the unique active ingredient, UC•II®, Flexadin® Advanced works differently than traditional supplements that contain glucosamine and chondroitin.

Unique and proprietary form of undenatured type-II collagen which works through oral tolerization to help maintain the normal metabolism of joints.
Advanced formulation helps support normal joint function by targeting the immune system.
Description

Flexadin® Advanced with UC•II® is made from a breakthrough formula that supports healthy joints and flexibility in dogs and cats of all ages – and sizes. With just one tasty chew per day, you can help ease your patient's joint stiffness – now that's something to wag about.

Features

Contains UC•II®
One chew per day, any size cat or dog – great for multi-pet households
Highly palatable: 94% dog & 73% cat*
No loading administration period

Ingredients:
Non-hydrolytic UC•II® (yielding 10 mg of active undenatured collagen type II), 40 mg; omega-3 fatty acids (flaxseed oil), 80 mg; omega-3 fatty acids (fish oil), 20 mg; and vitamin E, 42 mg (21 IU)

Directions

Administer 1 chew daily to any size cat or dog

Sizes

Regular Strength

SKU #434572 - 30ct bag (3.17 oz)
SKU #439516 - 60ct bag (6.34 oz)

Extra Strength

SKU #465203 - 30ct bag (3.17 oz)
SKU #465204 - 60ct bag (6.34 oz)
*Data on file.
UC•II® and logo are trademarks of Lonza. UC•II® undenatured type II collagen ingredient.