Description
Flexadin Advanced with UC•II® is an innovative supplement that supports healthy joints and flexibility in dogs and cats. UC•II® has been clinically proven to be more effective than glucosamine and chondroitin.*
The breakthrough formula supports healthy joints in dogs and cats of all ages — and sizes. Just one chew, once daily can help any size pet. That makes Flexadin Advanced perfect for homes with multiple dogs and cats.
Flexadin Advanced:
Helps enhance a pet's normal repair of cartilage and joints
Helps maintain joint function
Helps maintain joint mobility and flexibility
Works differently than other supplements containing hydrolyzed collagen peptides, glucosamine, chondroitin, or CBD
The unique formula also can ease joint stiffness and promote normal cartilage health.
Joint supplements only work if a pet accepts them — and dogs and cats love the taste of Flexadin Advanced with UC•II®!
Ingredients
Active ingredients: UC•II® brand collagen (chicken cartilage yielding 10 mg of active undenatured collagen Type II) .......... 40 mg
Inactive Ingredients: Arabic gum, brewers yeast, calcium sulfate, chicken liver, citric acid, citrus pectin, fish oil (source of omega-3 fatty acids), flaxseed oil (source of omega-3 fatty acids), glycerin, maltodextrin, mixed tocopherols, oat flour, oat meal, propionic acid, rosemary extract, rye flour, silicone dioxide, sodium alginate, sorbic acid, soy lecithin, vegetable oil, vitamin E (dl-alpha tocopheryl acetate), water
Directions for Use
Administer 1 chew daily to any size cat or dog unless otherwise directed by your veterinarian.
How Packaged
Flexadin® Advanced with UC•II® is available in 30-count or 60-count bags.
Where to Buy
Flexadin® Advanced with UC•II® is available from veterinarians, online retailers, and at store.myhappypets.com.
* Based on a 120-day clinical study comparing 10 mg active Type II Collagen to 2,000 mg glucosamine and 1,600 mg chondroitin (D'Altilio et al, Toxicology Mechanisms and Methods, 2007).
UC-II® and logo are trademarks of Lonza. UC-II® Undenatured type II collagen ingredient.
Associated Products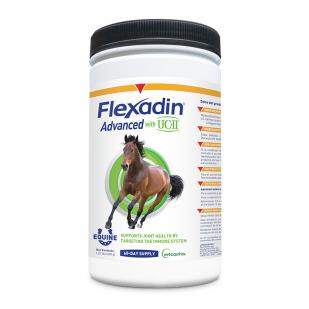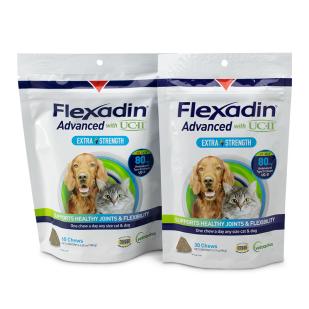 Flexadin® Advanced with UC•II® Extra Strength
See product