Phovia from Vetoquinol helps accelerate natural skin regeneration of cats and dogs
FORT WORTH, TEXAS (Jan. 26, 2022) – Vetoquinol USA announces the availability of the Phovia dermatology system. Phovia helps accelerate natural skin regeneration for most lesions so dogs and cats can recover in up to half the time.1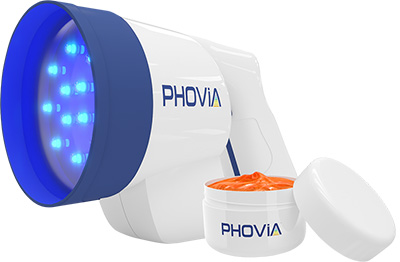 Phovia can be used to help heal canine dermatological conditions including: surgical incisions, perianal fistulas, interdigital furunculosis, and superficial and deep pyoderma.
"There is widespread and growing use of commercial and at-home light therapy devices for human use. Now, we are able to bring the benefits of fluorescent light therapy to pets with a clinically proven system," said Eric M. Alsup, DVM, Country Manager, Vetoquinol USA. "Phovia can help reduce treatment time for pets with skin lesions, which means less time in cones, e-collars, and bandages."
Phovia provides clinics with a proven service that can be performed by trained veterinarians, technicians, or assistants. Plus, it requires no additional at-home care for owners.
The Phovia kit has two components: an LED Lamp, which emits blue, low-energy light and the Phovia Gel, which is a unique topical photoconverter activated by light from the Phovia Lamp. While most light therapy systems are limited to a single wavelength — addressing at most one layer of the skin — the Phovia chromophore gel releases fluorescent light energy (FLE) at multiple wavelengths, giving multiple beneficial cellular responses simultaneously.
Despite exerting a biological effect, the Phovia system is generally very safe for users and pets.2,3 Phovia is not indicated for use in photosensitivity conditions, such as porphyria, or medication with photosensitizing agents. When they occur, side effects could include hair color change, erythema that regresses within 6-12 hours, skin hyperpigmentation, and/or transient pain at the wound site.
Vetoquinol brought Phovia to the United States through an exclusive licensing agreement with Klox Technologies Ltd. The system is already available to veterinarians in most European countries.
About Vetoquinol USA
Headquartered in Fort Worth, Texas, Vetoquinol USA is owned by Vetoquinol S.A., an independent, family-owned French pharmaceutical company founded in 1933. Dedicated exclusively to animal health, Vetoquinol USA is focused on the development, production, and marketing of FDA, EPA, NASC, and AAFCO-regulated pharmaceutical, nutritional, and dermatological products for small and large animals.
Contact
Jennifer Ryan
(620) 388-3937
usa_news@vetoquinol.com
References
Marchegiani, A., et al. (2021) The Effectiveness of Fluorescent Light Energy as Adjunct Therapy in Canine Deep Pyoderma: A Randomized Clinical Trial. Vet Med Int, 6643416.
Marchegiani, A., et al. (2019), Fluorescence biomodulation in the management of canine interdigital pyoderma cases: a prospective, single‐blinded, randomized and controlled clinical study. Vet Dermatol, 30: 371-e109.
Salvaggio, A., et al. (2020) Effect of the topical Klox fluorescence biomodulation system on the healing of canine surgical wounds. Veterinary Surgery, 49:719-727.
Phovia is a trademark of Vetoquinol S.A. It is manufactured by Klox Technologies and distributed by Vetoquinol USA under license from Klox Technologies. PHO-0649-PR1221
Latest news