Fluorescent light energy application significantly improved the quality of life of owner and dogs
FORT WORTH, TEXAS (Nov. 8, 2023) – A new study published in the Open Journal of Veterinary Medicine showed successful healing of common dermatological conditions improved the quality of life of both dogs and their owners.1
Quicker healing can help improve the quality of life of both dogs and their owners by reducing time spent administering antibiotics or applying medications. Fluorescent light energy (FLE) has been proven to help speed healing time.2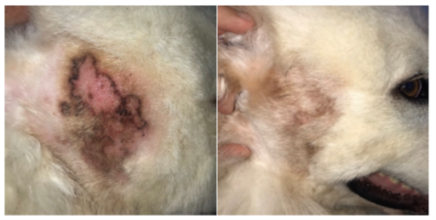 In the study, 35 dogs with deep pyoderma, interdigital furunculosis, pyotraumatic dermatitis, wounds, and perianal fistulas received two sessions of FLE once a week. Median treatment duration was:
· 9 weeks for perianal fistula
· 7 weeks for interdigital furunculosis
· 5 weeks for deep pyoderma
· 3 weeks for wounds
· 1.5 weeks for pyotraumatic dermatitis
Complete remission was observed in 86% of dogs using either FLE alone or FLE combined with topical antiseptic shampoo. Partial remission was documented in 14% of dogs using FLE combined with other therapies. Owners reported a 46% improvement in the time devoted to managing the pet's disease.
"The additional care and resources required by owners to manage their pet's skin conditions can be draining for the whole family," noted Acacia Roman, DVM, Senior Technical Services Veterinarian, Vetoquinol USA. "Complicated, time-consuming protocols owners must follow at home inevitably lead to reduced compliance, which can lead to increased healing time. Incorporating FLE can help speed healing and make the whole family happier and healthy again."
Access the complete study at https://doi.org/10.4236/ojvm.2023.137011.
About Vetoquinol USA
Headquartered in Fort Worth, Texas, Vetoquinol USA is owned by Vetoquinol S.A., an independent, family-owned French pharmaceutical company founded in 1933. Dedicated exclusively to animal health, Vetoquinol USA is focused on the development, production, and marketing of FDA, EPA, NASC, and AAFCO-regulated pharmaceutical, nutritional, and dermatological products for small and large animals.
Mosca, M., Briand, A., Carrasco, I., Luciani, L. and Fantini, O. (2023) Impact of Fluorescent Light Energy on the Quality of Life of Dogs with Dermatologic Disease and Their Owners. Open Journal of Veterinary Medicine, 13, 122-135.
Marchegiani, A., et al. (2021) The Effectiveness of Fluorescent Light Energy as Adjunct Therapy in Canine Deep Pyoderma: A Randomized Clinical Trial. Vet Med Int, 6643416.

© 2023 Vetoquinol USA, Inc. Phovia is a registered trademark of Vetoquinol S.A. It is manufactured by Klox Technologies and distributed by Vetoquinol USA under license from Klox Technologies.
Latest news