New products offer proven ingredients to provide joint support at every stage of a pet's life
FORT WORTH, TEXAS (Oct. 27, 2022) – Vetoquinol USA announces the launch of five new Flexadin® products, bringing research-proven joint support to dogs and cats of all ages and life stages.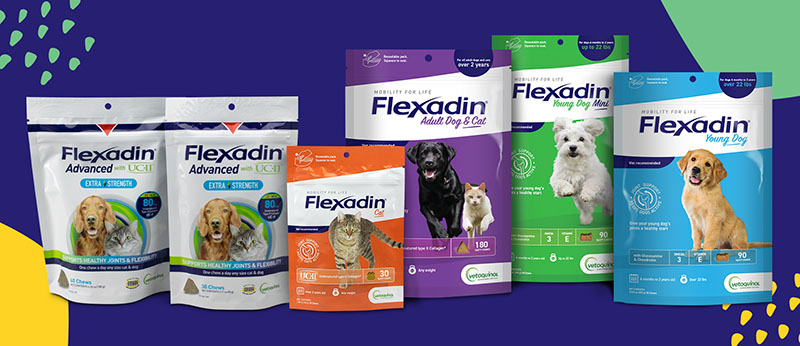 The new products will be available Oct. 1, 2022:
Flexadin Young Dog is a supplement for dogs from 6 months to 2 years old containing glucosamine. It is designed for active, younger animals and breeds prone to joint issues with eight ingredients to support joint health.
Flexadin Young Dog Mini is formulated for small-breed dogs from 6 months to 2 years old with the right amount of glucosamine, creatine, Perna canaliculus (green-lipped mussel), and omega-3 fatty acids to help support joint health.
Flexadin Cat has a cat-friendly shape and contains UC•II® for advanced joint support that can help actually slow cartilage loss.
Flexadin Adult Dog & Cat is formulated for pets more than 2 years old with advanced joint support containing UC•II®, which has been clinically proven to be more effective than glucosamine and chondroitin.*
Flexadin Advanced Extra Strength with UC•II® offers once-a-day joint support for dogs and cats that's so powerful it is only available from a veterinarian.
"As an industry, we've learned so much in the past 30 years," said Eric M. Alsup, DVM, Country Manager, Vetoquinol USA. "Now, we know that glucosamine and chondroitin are ingredients that help maintain joint mobility in young dogs while older dogs may need advanced support under the care of a veterinarian. The full line of Flexadin products makes it easy to find a supplement that matches the needs of your pet."
Flexadin Advanced with UC•II® and Flexadin Plus will continue to be available to pet owners. Flexadin products can be purchased at veterinary clinics, authorized retailers, and https://store.myhappypets.com/joint-support/.
About Vetoquinol USA
Headquartered in Fort Worth, Texas, Vetoquinol USA is owned by Vetoquinol S.A., an independent, family-owned French pharmaceutical company founded in 1933. Dedicated exclusively to animal health, Vetoquinol USA is focused on the development, production, and marketing of FDA, EPA, NASC, and AAFCO-regulated pharmaceutical, nutritional, and dermatological products for small and large animals.
* Based on a 120-day clinical study comparing 10 mg active Type II Collagen to 2,000 mg glucosamine and 1,600 mg chondroitin (D'Altilio et al, Toxicology Mechanisms and Methods, 2007).
©2022 Vetoquinol USA, Inc. Flexadin is a trademark of Vetoquinol USA. UC•II® and logo are trademarks of Lonza UC•II®< undenatured type II collagen ingredient.
Latest news