Helps practices retain and attract top talent to stop the cycle of burnout and understaffing
FORT WORTH, TEXAS (March 13, 2023) – High employee turnover and vacancies in staffing continue to frustrate the animal health industry.1 Now, Vetoquinol announces the launch of VetPowerment™, an employee engagement and development tool that can help retain and attract top talent.
VetPowerment is cloud-based software accessible on computers and mobile devices. It allows team members to regularly evaluate each other and the organization. This confidential information is aggregated to help diagnose the organization's work culture and empower managers to select development training for improvement.
Image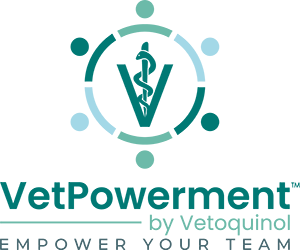 "With VetPowerment, managers get feedback before employees turn in their notice," said Heidi Rooney, MBA, Business Solutions Development Manager, Vetoquinol USA. "Burnout costs the veterinary industry up to $2 billion annually in increased turnover, reduced working hours, and reduced clinical capacity.2 We know specific leadership tactics can help, and VetPowerment assists clinic owners and practice managers in identifying what is motivating their staff."
VetPowerment measures key drivers of employee satisfaction, including:
Communication
Growth and development
Recognition and appreciation
Trust
Belonging and camaraderie
Justice and equality
Once a week, team members complete an anonymous survey online that takes about five minutes. The data is compiled in an easy-to-use dashboard that always remains confidential. Then, managers can access practical advice to improve workplace culture, or take part in one-on-one coaching based on aggregated reports. Meeting benchmarks earns the designation of "VetPowerment Certified Practice" — signaling to current and potential employees a commitment to providing a healthy working environment where people can do their best without sacrificing personal time or values.
"VetPowerment is tailored specifically to the needs of the veterinary industry," Rooney said. "It is the solution practices need to assess their culture, identify opportunities for improvement, and transform into an organization that keeps people passionate about animal health careers."
VetPowerment is brought to you by Vetoquinol, a Great Place to Work® Certified company. Learn more at vetpowerment.com.
About Vetoquinol USA
Headquartered in Fort Worth, Texas, Vetoquinol USA is owned by Vetoquinol S.A., an independent, family-owned French pharmaceutical company founded in 1933. Dedicated exclusively to animal health, Vetoquinol USA is focused on the development, production, and marketing of FDA, EPA, NASC, and AAFCO-regulated pharmaceutical, nutritional, and dermatological products for small and large animals.
For more information, contact Heidi Rooney at VetPowerment@Vetoquinol.com.
Nolen, S. R. (2023) Report: Animal health industry experiencing highly competitive labor market. AVMA News.https://www.avma.org/news/report-animal-health-industry-experiencing-highly-competitive-labor-market. [Access date: Feb. 20, 2023]
Neill, C. L., Hansen, C. R., & Salois, M. (2022). The Economic Cost of Burnout in Veterinary Medicine. Frontiers in Veterinary Science, 9, 2297-1769.
© 2023 Vetoquinol USA, Inc. VetPowerment is a trademark, of Vetoquinol. Great Place to Work is a registered trademark of the Great Place to Work Institute, Inc.
Latest news